What HR Must Learn from Marketing
Human Resources has a marketing problem: it needs to learn to be more like marketing. Yes, HR has historically been poor at communicating and demonstrating its value, but it goes beyond that.
High-performing organizations (HPOs) are placing significant emphasis on becoming more analytically-driven and market-focused. While the HR functions within these top companies are adapting their orientations to support and deliver against these imperatives, there are many lessons HR must learn from their organization's marketing function, a function that was forced to evolve from tactical to strategic and has established foundations upon which HR can learn from and refine its efforts.
Quantify and validate your impact on the business
Since the dot.com bubble burst 13 years ago, corporate leadership has tightened its grip on corporate marketing and held it accountable for its impact on the business. This forced marketers to evolve the way marketing measured its success; away from efficiency measures (e.g., cost per click and click-through rates), towards effectiveness measures (e.g., number of marketing qualified leads generated), and ultimately impact measures (e.g., marketing's contribution to sales forecasted pipeline).
Much of this evolution was enabled by marketing's collaboration with sales. This collaboration has allowed marketing to focus on measures that actually "move the needle" and has broadened its impact on the business.
What HR must learn
i4cp research has consistently shown HPOs are evolving from efficiency measures (e.g., cost-to-fill and average training hours per employee), to effectiveness measures (e.g., quality of attrition and quality of hire), with their eyes towards impact measures (e.g., customer satisfaction and revenue growth). HR must get out into the business and understand how it makes money. In addition, HR must be able to clearly track and correlate its impact.
An example
One of the most popular metrics used to determine marketing effectiveness is "Marketing Qualified Leads" (MQL). MQLs are leads deemed worthy to hand off to sales and are generally determined based on the qualifications of the individual and their activity (i.e., engagement) with the organization throughout the lead generation process. Typically, data from the company's lead management or customer relationship management systems are used to verify MQLs as well as track activity after they've been passed along to sales.
MQL is akin to quality of hire. For HR, the lesson learned is to work with the business leaders to define the criteria that will determine quality of hire. Depending on the job role, these criteria may include organizational fit, hiring manager satisfaction, time-to-full productivity, and first-year (or project) retention. Access to applicant data and first-year performance data is critical to substantiate quality of hire. For more information about this metric, view this video.
Personalize, do not push
The CAN-SPAM Act of 2003 sets the rules for commercial email and laid the foundation for "permission-based marketing." As a result, marketers have been forced to target their direct email efforts to much further defined audiences; those who have opted-in for such outreach by specific companies. To deliver the right message to the right person at the right time requires marketers to have a firm knowledge of email design and a flair for developing engaging content targeted to specific audiences.
What HR must learn
i4cp research has revealed the movement of HPOs away from programs for the masses towards programs designed for each individual. Targeting messaging and programs at the individual level has both pre-hire and post-hire applications for HR and the business. For example, by sending targeted messages to prospective applicants, your company is much more likely to not only gain that person's attention, but also impress upon them your focus to provide and tailor programs for individual employee development.
An example
Many marketers are pursuing buyer "persona" development. First "invented" by Alan Cooper, in 1999, personas are a name for pretend users who represent populations (hypothetical archetypes), defined by their goals (goal-driven design), which are motivations for behaviors. Personas aid in product development as well as product marketing and sales education.
A similar process can aid HR in recruiting outreach (think profiles to target for candidate identification and relationship management purposes). This can also aid in "career-pathing" for future-focused job roles/positions. Many HPOs are placing increasing importance on strategic workforce planning (i.e. 3-5 year out planning). A key aspect of strategic workforce planning is defining critical job roles; those that will be core to business success and require skills that are difficult to find or develop.
Establishing hypothetical personas for roles yet to be established, but essential to support the business in a few years, may prove valuable for targeting recruiting outreach, as well as establishing development plans and providing visibility into future-oriented opportunities within your organization.
Embracing technology to engage, collaborate, and learn
The proliferation of the Internet and advancement of technology has provided unprecedented access to information (e.g., product specifications and insights from other consumers) via multiple channels (e.g., mobile handhelds and tablets), as well as markets around the world. This has resulted in an empowered consumer, one with multiple options and an amplified voice in the marketplace. And this becomes more pronounced when one considers the changes in consumer demographics (think "digitized consumer") - consumers who have grown up with technology, utilize it in their everyday personal lives to communicate, play games, and access information, and expect the businesses that want their business to engage with them via the means they (the consumers) want.
What HR must learn
HR must go beyond enabling employee access to information (e.g., benefits and payroll), and towards enabling access to development programs (i.e., mobile learning) as well as access to other employees (i.e., collaboration). The mantra of anytime, anywhere, via any device or modality must be a priority of HR and corporate IT.
An example
Content marketing is fast on the rise as companies seek to establish thought leadership and become viewed as relevant sources of useful information; not just as an organization trying to sell its products or services. In addition, respectively, social media marketing and social media monitoring technologies are used by marketing organizations to reach consumers where consumers are as well as to tune into the conversations taking place in the "socialsphere". The latter of these, social media monitoring, enables marketers to track what key market influencers are discussing as well as to gauge overall market sentiment about the company, its products and/or brand.
Communicating in a non-overly sales way with priority prospects and passive candidates helps build intrigue and trust. The use of employee videos at a company's website is a great non-sales way to tune prospects into your organization's culture.
Allowing employees to post job openings to their social networks allows a much broader reach to their personal contacts (i.e., employee referrals). Also, according to i4cp's latest research on innovation "the use of collaboration and social media tools to allow employees to share knowledge" was the top human capital practice that correlated to i4cp's Market Performance Index.
Enabling managers to easily communicate with their teams and equipping employees with the means to collaborate with and learn from each other, as well as find internal subject matter expertise, is going to become increasingly more difficult and important as businesses become more flat and matrix-oriented. Furthermore, i4cp's latest research on global leadership development reveals one of the most important competencies not currently included in leadership development programs is the use of virtual and social media technologies.
i4cp member spotlight: Lincoln Financial Group

Founded more than 100 years ago and with more than $178 billion in assets under management, Lincoln Financial Group places a premium on customer experience. To support this focus, corporate marketing at the company reports to HR.
"Effective marketers map out the customer experience and highlight the touch points where there is interaction. They then ensure that at each interaction (i.e. touchpoint) the experience is one that delights the customer. This leads to brand loyalty," said Jamie DePeau, SVP and Chief Marketing Officer (CMO) at Lincoln Financial Group. "The HR communications program at Lincoln Financial is the most comprehensive I've seen. HR has mapped out the employee experience and outlined what employees need at every stage and touchpoint. This helps us ensure the most positive employee experience possible."
When DePeau joined Lincoln Financial 18 months ago, it was her first time - as a chief marketing executive - reporting to HR. However, based on market trends, HR reporting into marketing, marketing reporting into HR or both functions sharing a dotted line, she knew it was not uncommon. And when DePeau considered her primary objective of building Lincoln Financial Group's brand, she found it to make complete sense because organizations can't afford inconsistent external and internal brands.
According to DePeau, "HR and corporate marketing share the same business objectives. They also have a mutual dependency and need to work together to meet those objectives. So, my advice to HR is to approach your CMO with the needs of the business and seek to forge a relationship to meet those objectives. Marketing may come at it with a different view (externally vs. internally), but marketing must be equally focused on the marketplace and on the employees to meet our objectives. It's the same for HR. There is much more in common between these two functions than not."
Don't just learn from marketing - work with marketing
According to other research, the tenure of chief marketing officers has lengthened from an average of 23 months in 2006 to an average 47 months in 2012. Without question, a variable to this extended longevity is the increased relevancy and impact that marketing has been able to make on the business.
Indeed, there is much that HR can learn from its brethren in corporate marketing, and vice-versa. To this end, i4cp recommends HR and marketing to establish a mutual job rotation process/program. Imagine bringing the brain-child of marketing analytics into the HR organization to share practices and knowledge around consumer segmentation, consumer analytics, and quantifying impact on the business.
Also, envision the power of bringing an HR executive into marketing to help improve and reinforce how the company is perceived both externally and internally. With all the resources companies dedicate to building up a strong consumer brand, that will be all for not if the brand put forth externally is not supported by a well-prepared and engaged workforce. Indeed, HR is in a unique position to help organizations align and strengthen the business' brand in three critical areas:
Consumer brand - how your customers and prospective customers perceive your company (i.e., is it one they want to do business with?);
Employer brand - how potential and current employees perceive your company (i.e. is it one they find compelling or are excited to work for? - strong leadership, they treat their people well, good culture, etc.);
Talent brand - marketing of the employer brand to specific segments of current or potential employees - this is where persona development can help. This includes direct outreach by the employer to specific segments they view as ideal for critical roles or to fit their organization's unique culture. This also includes building an identity among those specific segments as a place where they can achieve their individual goals.
Kevin Martin is the Chief Research and Marketing Officer for i4cp.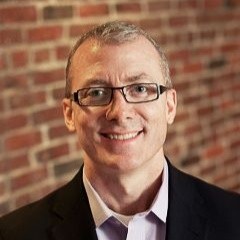 Kevin Martin is the chief research officer at i4cp. A highly sought-after international keynote speaker on all aspects of human resources and talent management, Kevin has been recognized as a "Top 100 HR Influencer" by HR Examiner, is a renowned keynote speaker, and has been published in Forbes, Wall Street Journal, and HBR.