Challenge Everything
We work in an ever-changing and increasingly competitive landscape that challenges and rewards those that are agile and innovative, while punishing those that are not.
Take, for example, the bankruptcy and bailout news regarding yet another European Union country, Cyprus. This island country in the Eastern Mediterranean Sea, which accounts for just 0.2% of the eurozone economy, is seeking a €10 billion bailout from the European Central bank. These funds will provide short-term relief, but there are already reports that the country's unemployment rate will spike from its current 15% to more than 25% over the next 12 months. Overall, the economic frailty of several eurozone countries over the past few years has forced governments across the eurozone to challenge their policies on everything from taxes and labor laws to defense and health care spending.
On the other end of the spectrum, consider professional golfer Tiger Woods. After plummeting to 58th place in world golf rankings in November 2011, he has now triumphantly returned to being number one. During his already Hall of Fame career, Tiger has continually challenged his world-class game and has changed his golf swing an unthinkable three times.
Willingness and ability to challenge the status quo and embrace change are hallmarks of high-performance. However, as elaborated on in the Institute for Corporate Productivity (i4cp's) research report Building a Change Ready Organization (complimentary), though the pace of change continues to quicken and become less predictable, most organizations are also increasingly less capable of adapting to and managing this change.
This is not the case, however, among the speakers and organizations featured recently at i4cp's annual conference. At that event, the nearly 250 attendees - consisting primarily of executives from i4cp member companies - convened in order to challenge their minds, challenge their organization's current ways of doing things, and also to challenge each other; in essence, to challenge everything.
Clare O'Brien, Director of Learning and Development for Disney ABC Television Group, challenged her team to quantify the impact of learning on the organization. To this end, she shared how they've been able to correlate learning data with employee survey data, comparing learners with non-learners. As a result, her team is able to quantify the impact of learning on three key measures: employee engagement, enablement and business results. This allows her team to show executive leadership the reach, engagement and impact of learning at Disney/ABC Television Group, which has set the stage for a learning culture in which learning strategy is rooted in each business unit's five-year plan.
Michelle Clements, SVP of HR for REI, shared how she challenged perhaps one of the most widely-held beliefs pertaining to talent management; that performance reviews are valuable and/or needed. i4cp's pre-conference survey of registrants found that 99% of organizations in attendance conduct standard performance reviews, with 13% currently debating or making plans to do away with them. For those that think this move would inhibit a performance culture, Clements assured "you can be just as performance-intense without formal reviews as with them." Her suggestion to drop standard performance reviews was met with applause from her peers in the executive leadership team and by overwhelming enthusiasm from store managers and employees. This massive change management initiative required the company to shift its thinking about performance reviews from complex to simple, from generic to personalized, from once a year to ongoing, from formal and forgettable to informal and actionable, and from system-driven to conversational.
Shannon Brown, Chief HR Officer at FedEx Express, challenged organizations to open their management development programs to everyone. Under his leadership, FedEx Express has adopted a self-selection process for its AiM (Advance into Management) program, which is open to all of the company's 80,000 hourly employees. This opt-in/opt-out policy has resulted in a two-sided payoff: 1) it provides opportunity to everyone; and 2) it provides opportunity to the managers of those who self-selected into the program to work on and demonstrate management and coaching skills. Shannon also shared the ancillary benefit that those who opt-out of the program do so with a much greater respect for the sacrifice required by their managers in order to complete the program. At FedEx Express, 82% of frontline managers come from within the company.
Mark Blankenship, SVP and CAO at Jack in the Box, challenged our attendees - and the entire HR industry - with his process to correlate three critical human capital scores to business measures and to effectively utilizing analytics for predictive purposes. Blankenship and his team can predict 50% of the variability in employee turnover by restaurant, and 25% of the variability in labor as a percent of sales. This becomes more meaningful and actionable when one considers how they determine optimized versus sub-optimized stores. Going beyond engagement alone, Blankenship's team examines three critical areas: alignment, capabilities and engagement. It's the rating received in each of these three measures that determines the action plan for optimizing an individual business unit, with deficiencies in any given area calling for a different set of prescriptive measures for improvement. When comparing optimized to sub-optimized stores at Jack in the Box, optimized stores achieved 10% higher sales per quarter and 30% higher profit per quarter.
Steve Joyce, CEO, and Patrick Cimerola, SVP of HR and Administration, Choice Hotels International, embraced change and led a shift from a strategy that was currently successful to one that would enable more success in the future. They knew that strong leaders were the key to this change, which spurred a 50% turnover at the VP level over a four year period. As succession planning for key roles was a primary concern of the company's board of directors, Cimerola decided to focus on 15 positions deemed critical to the company, developing deep benches for each with a goal of 60% internal candidates and 40% external candidates for each role. According to Joyce, the company spends the same amount of time on talent (people) strategy as it does on business strategy. In fact, Steve placed the onus for talent acquisition and development on the organization as a whole, not just HR. To reinforce this, Steve volunteered to go on the television show Undercover Boss. In addition to making strong connections with several of his company's frontline workers and coming away with ideas to improve employee work conditions and engagement, the exercise also aided brand awareness, which increased more than 20 fold as a result of the show and equated to $120m in business.
David Rock, author and CEO of the Neuroleadership Group, is using his studies of neuroscience to challenge conventional wisdom with regard to developing creativity and innovation in individuals and organizations. While sharing a few findings from research conducted in collaboration with i4cp on Innovation (members only), David also emphasized the importance of individuals coming up with insights, which are necessary to solve many complex problems while also activating a deep sense of engagement. David stated that good leaders can promote insight by asking questions that generate reflection. He also shared several ways to help each person generate more insights, including:

Passionately preserving your quiet time
Doing things that make you happy
Letting your mind wander
Approaching problems as interesting puzzles.
These executives and organizations were among many featured at i4cp's annual conference who are challenging conventional wisdom and are living examples of how people practices drive market performance. We've just announced that i4cp's 2014 conference will return to the Fairmont Princess in Scottsdale, Arizona on March 10 - 14, 2014 (early registration will open soon). Also, on Thursday, April 18 we will be conducting a complimentary webinar that elaborates on the key findings and takeaways from our 2013 conference.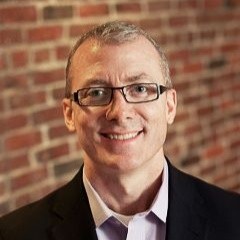 Kevin Martin is the chief research officer at i4cp. A highly sought-after international keynote speaker on all aspects of human resources and talent management, Kevin has been recognized as a "Top 100 HR Influencer" by HR Examiner, is a renowned keynote speaker, and has been published in Forbes, Wall Street Journal, and HBR.