The Talent Imperative: 5 Actions to Combat the Great Resignation
In May 2021, 72% of senior HR executives at large organizations (1,000 or more employees) surveyed by the Institute for Corporate Productivity (i4cp) said they anticipated at least a moderate talent exodus at their respective organizations in the coming months. They were spot on.
Take, for instance, these data from the Bureau of Labor Statistics: Nearly 17 million U.S. workers quit their jobs from July through October 2021.
While it's clear the U.S. (in particular) has a talent shortage crisis, the growing dearth of skills and capability is affecting most major regions around the world. So much so, it is top of mind among CEOs and CFOs. It's about time.
CFO's Top Concerns
To overcome these concerns and convert this talent crisis into talent advantage, i4cp recommends that HR and business leaders take the following five actions:
Know your organization's talent risk – Do you have the talent to compete and win going forward? According to i4cp research, only one-third of firms worldwide (to a high extent) have a workforce with the skills needed to advance strategy over the next one-to-three years. And this finding is consistent across global regions, from North America, to the European Union, and across South and Southeast Asia.

That statistic implies two worrisome issues: The inability to develop the capability needed; and the inability to attract and retain those who have (or may have) the capability needed.

Your organization's talent risk will vary, but a significant source resides in the gap in skills and capabilities between what you currently have and what you'll need most in the next one-to-three years. It's easier to identify talent risk when you know what roles or work will no longer be relevant for your organization and which will become most relevant. Without these key insights, your talent acquisition and upskilling/reskilling efforts will not hit the mark.

What does the successful management of talent risk look like? This recording of a recent i4cp interview with Samantha Hammock, Verizon's EVP and CHRO, provides details and practical insights.

Refresh and make good on your employee value proposition – Your EVP should reflect what is unique to your organization, and what it offers that makes great talent want to join, as well as stay. In May of 2021, amid the hype of a pending talent exodus, only 52% of senior HR leaders surveyed by i4cp (and merely 45% from organizations with more than 1,000 employees) agreed that their organization's EVP differentiated itself from the competition.

Does your organization's EVP resonate with the talent you seek to attract and retain? Does your organization's culture and the experience one has while working for your firm reinforce or rebut the EVP? If your organization is now marketing hybrid work as a means to attract talent, will the behavior of your leaders, as well as internal systems and processes be supportive of hybrid work?

Your organization's ability to make good on its EVP significantly impacts your employer brand (i.e., your reputation as a place to work), yet, according to HR leaders, fewer than one-half of organizations with more than 1,000 employees (48%) deliver on what is promised to employees.

If you are not actively managing your EVP, you are willingly giving control of your employer brand to others. Not sure what your employer brand is? Check out i4cp's Culture Renovation BrandView.

Reimagine and recreate your organization's external talent supply chain – Seventeen months ago, in an article I wrote for the Financial Times, I posed this now foretelling question: Where will your organization turn for quick, trusted access to capability and skills if critical talent is unable or unwilling to return to the workplace or to resume working at all?

What sources of skills and capabilities present the greatest opportunities for your organization to leverage going forward? Think about former employees who left to pursue other opportunities or to retire. What about the under-employed such as people with disabilities, military veterans, and the formerly incarcerated? Have you considered rotating some of your up-and-coming talent with your best customers and suppliers in order to enable a more holistic understanding of your enterprise ecosystem as well as lend (and borrow) skills?

Beyond college campus recruiting, what is your organization doing to influence the knowledge and skills of the youth and young adults to ensure a sustainable talent pipeline into the future? This is important as this global talent shortage crisis will likely continue to grow in significance.

Consider the shrinking birth rates globally. For example, the U.S. birthrate fell for the sixth consecutive year in 2020—with the lowest number of babies born since 1979—and many other major countries including China, India, and Russia are experiencing the same. Couple that with rising youth unemployment rates in many countries. For instance, from 2019 to 2020, the youth unemployment rate in the EU increased from 15% to 17%. Combined, these data paint a bleak picture of future talent pools that are smaller in numbers and diminished in their readiness to lend value to employers.

Unlock your organization's trapped value by opening its internal talent supply chain – As stated earlier, most organizations do not have a full picture of the talent they already have. They also do not know the amount of discretionary capability they could tap into if they allowed their people to apply their interests and unique skills that fall outside of the roles they are currently in. High-performance organizations are establishing internal talent marketplaces and enabling mobility of talent around and through the organization.

For nearly 10 years, i4cp research has tracked and reported on the mega trend (across all generational groups) of talent demanding more control, choice, and flexibility in when and where work is done. Importantly, flexibility does not just connote place, time, and number of hours worked; it also implies variety in the type of work that's done as well as in the experiences one is exposed to and gets to take part in while working at your firm.

Fifty-two percent (52%) of HR leaders recently surveyed by i4cp reported that flexibility in work arrangements is a component of their organization's EVP proven to be effective at attracting talent. Make sure that the ability of workers to find and take part in interesting work and projects is part of your organization's flexibility.

Remove bias—look to screen in, not unconsciously screen out – Many organizations suffer from self-imposed constraints such as legacy mindsets, processes, or systems. For example, suppose a leader is open to non-traditional sources of talent but the job descriptions, career portal, and applicant tracking system are calibrated to screen out those without a four-year college degree, a minimum number of years' experience working in an industry, or who have been jobless for the for more than one year.

Your job descriptions may state that the organization supports flexible work arrangements (e.g., hybrid) – which is increasingly important to many job seekers. However, how will a hiring manager respond when asked by a candidate about how hybrid work is supported? Make sure to eliminate bias from your talent acquisition systems and processes.
Organizations must take action now to overcome the skills and capability gaps that pose the greatest business risk both short-term and longer-term.
Yet, don't forget an important proxy for an organization's ability to attract and retain the talent it seeks: its new corporate currency, which is a composite of three factors (purpose, culture, and brand).
Today's (and tomorrow's) workers want to be associated with organizations that have strong sense of purpose and contribute to societal well-being and the common good. Importantly, an organization's purpose must be reinforced by its culture. It is the firm's culture that determines the level of inclusion employees feel and directly shapes employee experience, both of which influence the overall well-being of the workforce and how customers experience the company. All of this influences how stakeholders of all types perceive and talk about the organization. This is what becomes your brand (i.e., reputation).
Kevin Martin is the Chief Research Officer at i4cp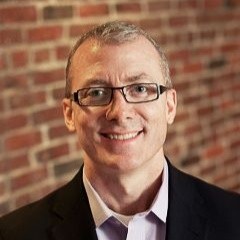 Kevin Martin is the chief research officer at i4cp. A highly sought-after international keynote speaker on all aspects of human resources and talent management, Kevin has been recognized as a "Top 100 HR Influencer" by HR Examiner, is a renowned keynote speaker, and has been published in Forbes, Wall Street Journal, and HBR.