To Be Agile, Your Organization's Talent Must Be Fluid
When new opportunities arise, how quickly is your organization able to redirect internal talent to take advantage?
The need for agile leaders and organizations is critical and driven by several key factors, all of which challenge current business models and render product and service offerings less effective or even obsolete. This is creating urgent need for new capabilities, propelling organizations into uncharted territory.
The marketplace in nearly every industry is being disrupted by new competition—often from outside the industry. The acceleration of technological advancement as well as shifts in population demographics result in increasing and evolving expectations and demands.
The ability to respond to these pressures requires a new level of customer-centricity, stretching organizations to not only increase the speed and relevancy of what they deliver, but also continuously improve how they deliver it.
Talent fluidity
As a continuation of our extensive research into organizational agility and resiliency, the Institute for Corporate Productivity (i4cp) embarked on a study to explore traits and characteristics of agile leaders and organizations in today's ever-changing business climate.
In addition to surveying over 1,800 business professionals worldwide, we conducted a series of interviews with senior-level executive of leading companies. The goal of these conversations was to uncover what their organizations are doing to enable agility as they face continuous changes. Interviewees shared their views on the challenges, useful practices and initiatives, and HR's critical role in creating more agile cultures and organizations.
A new executive brief, available exclusively to i4cp members, summarizes the five themes that emerged from those interviews.
Among those themes is the need to increase the fluidity of internal talent to address areas of emerging need and opportunity—versus traditional routines of talent and resource allocation. A few innovative, "break the rules" approaches were cited to quickly get talent to emerging opportunities. For example, one company has assessed the performance of individuals and how they've achieved that performance, be it through creative or unconventional ways, that have made them standouts. The organization has repositioned those individuals to work in a highly competitive space the company views as a must-win: autonomous vehicles.
Looking forward
Here's what is available or coming soon from i4cp's agility research:
November 2017 – Executive perspectives brief (available now to i4cp members)
November 2017 – Preliminary results report (available now)
December 2017 – Key findings of this research will be shared with i4cp's Chief HR Officer Board and other Boards.
Q1 2018 – New research will be published for i4cp members. This will include a report on the agility practices of high-performance organizations, highlighting next practices in leadership and organizational agility, infographics, and case studies.
March 26 – 29, 2018 – More findings from this extensive research will be presented at the i4cp 2018 Conference, which will focus on next practices in organizational agility. The pre-conference workshop will also focus on the topic.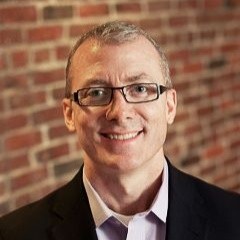 Kevin Martin is the chief research officer at i4cp. A highly sought-after international keynote speaker on all aspects of human resources and talent management, Kevin has been recognized as a "Top 100 HR Influencer" by HR Examiner, is a renowned keynote speaker, and has been published in Forbes, Wall Street Journal, and HBR.