4 Reasons the Patriots Won the Super Bowl (Again), and What Corporations Can Learn
Legendary football coach Vince Lombardi (who, for the uninitiated out there, is the namesake for the Super Bowl trophy) once said: "The dictionary is the only place that 'success' comes before 'work.' Hard work is the price we must pay for success. I think you can accomplish almost anything if you're willing to pay the price."
In an era of massive disruption, constant change, and so much uncertainty, I'm very thankful for American football, and especially for the New England Patriots. Simply stated, this game—and especially this particular team—are not only the embodiment of hard work, but the real exemplars of what it takes to execute strategy and win.
So why are we gushing over the Patriots on i4cp's blog (aside from the fact that myself, our CEO, and our co-founder all live in or are from Massachusetts)? Because, among other things, the reasons why they won are the same reasons why high-performance organizations in the corporate world win:
1. Maintain focus on a common threat
High-performance organizations are nearly 4X more likely to maintain focus on a common threat (42% vs. 11%), which helps keep their strategy, leadership, workforce, and processes aligned and moving in the same direction.
As for the Patriots? This is an easy one: Roger Goodell. The first words uttered by owner Robert Kraft upon accepting the Lombardi trophy during the post-game celebration sum it up: "A lot has transpired over the last two years, and I don't think that needs any explanation." Just a few moments later, when asked about the importance of this fifth victory, Kraft called it "unequivocally the sweetest" the Patriots have ever won.
2. Consider execution of strategy a top corporate priority
"Do your job!" You can't be much clearer than that. Every player on a winning team knows exactly what is expected of him on each play. For the New England Patriots, this isn't a mere tag line, it's the very essence of their organization's culture.
High-performance organizations are 3x more likely (63% vs. 22%) to emphasize strategy execution—not just the development of a good strategy—to meet business goals.
3. The organization's approach to the marketplace is frequently discussed
Last spring, the Patriots' coach, Bill Belichick said, "No one player is greater than the team." It's very clear that everyone in that franchise trusts the system, trusts their leaders, and trusts each other. If you want to be part of this organization, it's very clear that you either buy into the system and "team-first" attitude or you aren't going to be allowed to be part of it.
High-performance organizations consistently communicate their strategy and approach, which makes it easier to attract and retain talent that sees similarly (and cull out those who don't).
4. The behaviors of executives and middle managers are consistent with the behaviors needed to successfully execute the strategy
So, "What was discussed at half time?" The responses to this question on the parts of owner Bob Kraft, coach Bill Belichick, quarterback Tom Brady, and other players on the roster, following the history-making comeback from behind victory, communicated one theme: "Finish."
In corporate speak, that means, "Get results."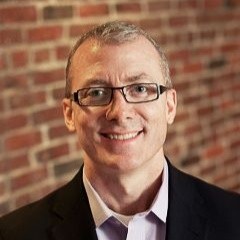 Kevin Martin is the chief research officer at i4cp. A highly sought-after international keynote speaker on all aspects of human resources and talent management, Kevin has been recognized as a "Top 100 HR Influencer" by HR Examiner, is a renowned keynote speaker, and has been published in Forbes, Wall Street Journal, and HBR.