Five Reasons Employers Should Invest in Apprenticeships
President Barack Obama is pushing for investments to help more than 1 million young people gain work experience and nab their first jobs, and for good reason: One in 7 Americans ages 16 to 24 are either not in school or don't have jobs. One way companies can help to reverse this trend is by investing in apprenticeships to upskill frontline workers, particularly those in this age group.
Apprenticeships are a structured form of paid worker training that combine on-the-job learning and structured instruction. Research conducted by i4cp and The Aspen Institute on Developing America's Frontline Workers found that apprenticeships are underutilized as development opportunities. Our research found that 33% of employers offer some form of apprenticeship program, but only 14% have registered apprenticeship programs via the U.S. Department of Labor. Further, 36% of companies plan to either maintain or grow their existing apprenticeship programs and an additional 10% plan to explore or start programs.
Here are five reasons why we believe apprenticeships make sound investments for employers:
Apprenticeships lead to employment. Apprentices are paid employees who earn paychecks for the work they do and wages that typically rises over time. Nearly nine out of 10 apprentices become employed after completing their apprenticeships.
Apprenticeships increase lifetime compensation. Apprentices earn higher wages and have starting salaries on average of $50,000 or more in some industries. Apprenticeships have been shown to increase a worker's lifetime compensation by over $300,000 compared to their non-apprentice peers.
Apprentices gain education without hefty debt. With the education component sponsored by the employer, and education credits from on-the-job training and coursework accumulated that can be applied to college credit, apprentices can advance their education (even to the degree level if desired) without accumulating the sizable student debt that typically comes with such educational opportunities in the U.S.
Apprenticeships build skills and create pathways for career advancement. Forty percent of job growth in the next year is expected to be for positions requiring middle-skill jobs (those that require post-high school education but not a four-year college degree). Apprenticeships can offer high school graduates a pathway to move into well-paying, middle-skill level careers without the prerequisite of a four year degree.
Investing in apprenticeships correlates to higher market performance. Our research found that high-performance organizations are 4.5X more likely to indicate they plan to grow their existing apprenticeship program or start one. While most organizations (55%) surveyed have no plans to offer apprenticeship programs over the next 12 months, it's clear that high-performance organizations value apprentice programs far more than low-performance companies.
"The new paradigm for thinking of skills will likely shift to certifications more so than four year degrees in a number of areas. Many of the actual job skills applicable to our rapidly changing workplace are best confirmed via certifications that can have a very quick turnaround time as compared to the four year program in which many skills learned in year one or two are approaching obsolescence by completion of the degree. The pace of the demand for newer, more up to date skill sets is moving much faster than ever before. Many four year institutions are finding it difficult to keep pace."
Apprenticeships have proven to provide a reliable source of highly-skilled and loyal workers for employers. Through combined hands-on training and classroom instruction, apprentices gain knowledge and skills that enable companies to more efficiently and cost-effectively provide high quality development opportunities while also fostering employee loyalty, retention and engagement.
Download the complimentary report, and register for the webinar on March 15, 2016, featuring Brian Poland, Director of Lifelong Learning & Talent Development at Walmart.
Read here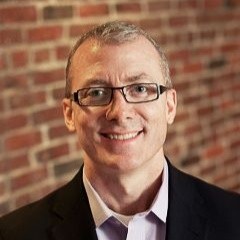 Kevin Martin is the chief research officer at i4cp. A highly sought-after international keynote speaker on all aspects of human resources and talent management, Kevin has been recognized as a "Top 100 HR Influencer" by HR Examiner, is a renowned keynote speaker, and has been published in Forbes, Wall Street Journal, and HBR.