Talent Acquisition at TIAA Drives Cost-Saving Results with Continuous Improvement
As long as there are people who make the world a better place, TIAA will keep making a difference for them. Since 1918, it has been TIAA's mission to serve those who serve others. It is this mission and the values the company embraces that make it a different kind of financial services organization. Employees understand that when you work at TIAA, you're not just in it for yourself. You are part of something bigger. A collective mission to make a difference—a collective mission employees make their own. To be difference makers.
TIAA is a Fortune 100 financial services organization dedicated to helping clients achieve financial wellbeing. Founded a century ago by one of history's great philanthropists, Andrew Carnegie, TIAA's original mission was to make a difference in the lives of teachers, later expanding its reach: TIAA has helped millions at academic, medical, research and cultural organizations—the people whose work makes the world a better place—retire with financial security.
This case study represents TIAA's submission to the i4cp Next Practice Awards. The awards were presented at the i4cp 2019 Next Practices Now Conference.

Business Challenge
Continuous improvement (CI) is "The Relentless Pursuit of Perfection," and perfection not only in services and products, but in how they are delivered. At TIAA, continuous improvement is a mindset—the desire to make the company better every day, to act like an owner, to look for ways to simplify how team members work for the benefit of TIAA clients. To remain competitive, the company must find better, cheaper and faster ways of doing business.
Integrating this mindset within Talent Acquisition (TA) led to the identification of several process improvement opportunities across the candidate recruiting and selection processes, significantly reducing costs to the firm.
Illustrating continuous improvement at TIAA:
Solution
The Talent Acquisition function recognized the need to provide more robust capabilities to the business while decreasing costs. Leveraging the CI approach, TA embarked on a multi-year process-improvement initiative to automate job requisitions, decrease the number of interviews and improve cycle time for offer approvals. Assessment and analysis of the recruiting lifecycle created a baseline to determine where process improvements would reduce costs and create time efficiencies. Based on the findings the TA team identified three problem areas: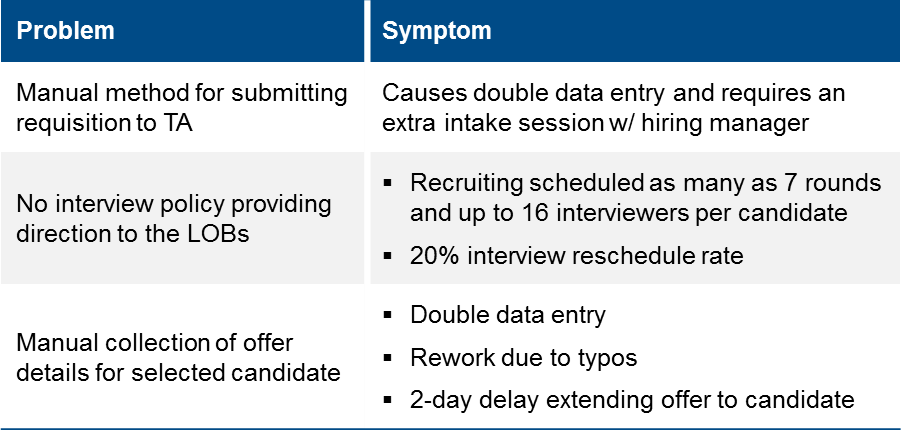 The identified areas had significant impacts on TA, the business and expenses:
TA Impact (on the business)
Business required two intake meetings to clarify/validate requisitions
Business had no visibility of status of hiring process
Business spent inordinate amounts of time interviewing candidates
Longer-than-desired time-to-hire cycle times limiting business' output
Inconsistent processes created a different experience for each hiring manager
TA Expense
Higher staffing levels per requisition than industry benchmarks
Longer-than-desired time-to-hire cycle times limiting HR throughput
Utilizing industry standards and internal data, the TA team eliminated waste and capitalized on system opportunities and enhancements. Changes to front-end processes were implemented, enabling the business to use the system to input their requisitions. The results:
Streamlined approval process
Required interviewers be designated in the system up front and limited to three rounds and five total interviewers
Gave hiring managers access to view requisition status, decision candidates in the system and supervise job offer details
Reduced risk associated with tracking requisition approvals and number of interviewers.
Results
TIAA's continuous improvement effort within Talent Acquisition has resulted in significant cycle-time and time-saving efficiencies which translate to a $1.3 million dollar savings (see table below). Taking a holistic approach to process improvement has created additional time- and cost-saving opportunities throughout the recruiting lifecycle thereby enhancing the candidate experience.
Results:
8,100 TA hours ~ 4+ FTE across the staffing organization
5,000 LOB hours ~ 2.5 FTE across the businesses
3 days' time-to-hire reduction across the firm
Conclusion
Talent Acquisition embarked on a continuous improvement journey with the goal of always looking for ways to improve. While significant strides have been made, the team remains steadfast in its desire to make things better for all involved in the TA process. With technology rapidly changing and TA's desire to be the best, the team will continue to build out capabilities for the future to drive outcomes and produce results.