COVID is Challenging Leaders (and Revealing New Ones)
Workforce well-being, the employee experience, and organizational culture are being tested in a very big way.
In fact, according to research conducted by i4cp over the past few months, significant changes to all three are looming:
In a poll of more than 100 senior-ranking HR leaders who took part in the May 1, 2020 i4cp CHRO COVID-19 Action Series call, "workforce well-being" received the most votes (58%) to the following question: Over the next year, which of the following do you believe will be altered the most at your organization as a result of this crisis? The second most popular (Talent Acquisition) received only 16% of the votes.
In the ongoing study Next Practices in Employee Experience, 69% of more than 550 business professionals surveyed indicated they believe the COVID-19 pandemic will change what employee experience means at their organizations to a high or very high extent.
In the ongoing Culture Renovation™ research, 57% of business professionals said they anticipated major changes to their organization's culture as a result of the pandemic.
The impact of an organization's leaders on each of these three elements (workforce well-being, the employee experience, and culture) is significant and undeniable.
Thankfully, as a result of the crises and general disruption we've all experienced over the past several months, what a firm views as leadership and who they consider a leader are also changing. And it's about time.
Rethinking the How, Who, and What of leadership…
In a pulse survey i4cp conducted during the last week of July 2020, 49% of 107 business professionals indicated that as a result of the current crisis-driven environment, what their organizations seek to develop among leaders (e.g., skillset and mindset) is changing. Additionally, 37% indicated that a new group of leaders is emerging across the enterprise.
These are good indications these organizations are now realizing that it's not the outcomes alone that denote leadership, but how those leaders are able to achieve the outcomes that matters most.
Many have posited that it takes a crisis to reveal one's true colors. The evidence to support this is clear and compelling, and has been apparent for a while.
Consider one of the major trends we've consistently highlighted from our research over the past several years: Things that were once considered 'soft' in business (e.g., corporate culture, brand, and even leadership traits) are increasingly the ones that deliver the hard (i.e., important or meaningful) impact.
Here's a look back—
A 2014 study conducted by i4cp and the American Management Association made clear that the softer side of leading had the greatest variability on global leadership effectiveness.
That same research posited a new definition of a leader: leadership is defined by one's ability to positively influence and collaborate effectively with others as opposed to a title or position in the organizational hierarchy or reporting authority.
Fast-forward to today—
That same sentiment has been echoed in nearly every conversation I've had with CHROs over the past few months as well as by nearly every guest i4cp has featured on its weekly COVID-19 Action Series calls—thought leaders, senior executives, and academics alike.
As a result of how organizations have been forced to respond and work due to the ongoing global health crises, stories that showcase the softer side of leading are abundant yet, sadly, also seem like a revelation to many. Here's a sampling of comments we have gathered over the past few months:
"Our CEO and other senior leaders now seem approachable and relatable."
"Our senior executives are showing empathy and compassion like never before."
"Our survey data is reflecting record levels of employee engagement and trust in leadership."
"Our CEO now appears 'human'."
Use this momentum as the tipping point
There now appears almost universal acceptance among executive-level leaders that flexible work arrangements actually work, and that the well-being of the workforce may end up being an employer's greatest asset—both of which have tremendous impact on employee experience.
Now is the time to make the systematic changes necessary to sustain this momentum.
For example, consider these findings from i4cp's ongoing study on succession management; data for which was collected in January 2020, and longitudinal data was collected on select survey questions in June 2020:
5X as many organizations now cite "behaviors that promote holistic well-being" as a successor readiness qualification than they did at the start of 2020 (40% in-pandemic vs. 8% pre-pandemic)
3X as many now cite "behaviors that promote inclusiveness or belonging" as a successor readiness qualification than they did at the start of 2020 (60% in-pandemic vs. 19% pre-pandemic)
60% of executives surveyed since the start of the pandemic indicate that how an individual interacts with others to achieve results—not just the results themselves—is now a successor readiness qualification.
Clearly, the COVID pandemic is taking a significant toll on the well-being of the workforce. However, leaders have been stepping up and demonstrating a much-needed softer side of leading and, by doing so, are enabling a better employee experience which will have a demonstrably positive effect on the health of the organization's culture.
Silver linings exist in every crisis and the humanization of leadership shines as one of the brightest.
How has your organization's lens on leadership changed since the pandemic? And what's it prepared to prioritize to ensure that refreshed view is reinforced throughout?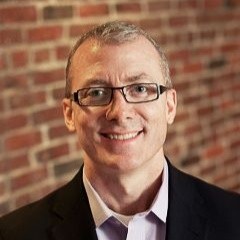 Kevin Martin is the chief research officer at i4cp. A highly sought-after international keynote speaker on all aspects of human resources and talent management, Kevin has been recognized as a "Top 100 HR Influencer" by HR Examiner, is a renowned keynote speaker, and has been published in Forbes, Wall Street Journal, and HBR.