75% of Large Companies Are Restructuring Their HR Functions—But Does It Really Matter?
Two years of multiple crises that required human resources (HR) to respond and lead decisively resulted in recognition of the valuable strategic contributions of HR leaders to business outcomes. The profile of the HR function has been broadly elevated since 2020, as has its ability to provide greater impact.
As part of HR's multi-faceted effort to continue to deliver on these expectations—which include positioning the organization to best navigate the hyper-competitive talent landscape, clearly understanding and responding to the needs of the customer, and optimizing to achieve sustained high performance in this new era of work—companies are assessing and restructuring their people management functions.
In fact, 75% of large companies (those employing >1,000 people) have or are in the process of doing so, according to the recent Institute for Corporate Productivity (i4cp) survey conducted in partnership with HR thought leaders John Boudreau and Peter Ramstad.
Some of the findings—including trends in 21 HR functions—are available in a new white paper, HR Structure in the New Era of Work, exclusively for i4cp members.
Centers of Excellence dominate
The survey, which focused on HR structure, capability, and design, was conducted in October-November 2021, and captured responses from senior-ranking HR executives at 122 companies around the globe.
While i4cp analysis of current and planned structural characteristics revealed no statistically significant relationship to market performance, a few trends stood out. For one, centers of excellence are clearly the most widely adopted structures, especially in the various areas of talent management in which consistency and scale are critical.
More centralization is the trend
Though not the case for all HR functions, on average organizations are 5x more likely to be moving toward centralizing vs. decentralizing certain HR activities.The analysis—which examined 21 people management functions—demonstrates the increasing demand for disclosure of workforce practices and metrics from key stakeholder groups, the rapid acceleration of digitization and the digital transformation of business, and ability to sense and respond more quickly based on sentiment and other data.
HR structure doesn't really matter, however
Perhaps the most interesting aspect of the study was what it didn't find. When it comes to HR structure, research revealed no statistically significant relationship between organizations' structures and market performance. Hence, where organizations place specific HR functions makes no difference to the bottom line. What matters most are HR's capabilities.
"Many people think structure alone might be the solution to a problem they're trying to solve. It's usually not. Structure is a support mechanism," says Greg Till, executive vice president and chief people officer of Providence Health.
"Structural change is best used to enable new strategies, work components, and capability needs. In order to be a strategic value driver in HR, we need to contribute to new strategies, new ways of working, and new organizational and individual capabilities to meet current and future business needs. If we aren't, structural change won't help."
We'll explore the evolution of HR capabilities in an upcoming white paper. For the HR structure trends across the 21 people management functions, download the HR Structure in the New Era of Work white paper now (i4cp members only).
Katheryn Brekken, Ph.D., is a senior research analyst with the Institute for Corporate Productivity (i4cp). Prior to joining i4cp, she served as an assistant professor of research with the MGM Resorts Public Policy Institute at the University of Nevada, Las Vegas School of Public Policy and Leadership, where she continues to lecture. She has worked closely with government and corporate leaders to develop and evaluate education and training programs and as a policy advisor. She has over 15 years of experience in public affairs and has testified before legislative bodies on matters of higher education and workforce policy. She is published in various academic journals including Politics & Policy, Community College Journal of Research & Practice, and State and Local Government Review. She received her Ph.D. in Public Affairs from UNLV.
Jay is a futurist and has devoted the past 25 years to identifying and analyzing the major issues and trends affecting the management of people in organizations.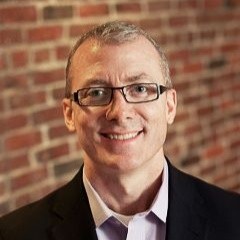 Kevin Martin is the chief research officer at i4cp. A highly sought-after international keynote speaker on all aspects of human resources and talent management, Kevin has been recognized as a "Top 100 HR Influencer" by HR Examiner, is a renowned keynote speaker, and has been published in Forbes, Wall Street Journal, and HBR.