Coronavirus is Forcing Changes to Leadership Development and Succession Planning
Within the past two weeks, the Institute for Corporate Productivity (i4cp) received several inquiries to its Expert Member Network asking about what other organizations are doing regarding leadership development and succession planning during this time of the COVID-19 coronavirus pandemic. An i4cp pulse survey on these topics conducted earlier this week brought back a range of interesting answers, including less than 10% of respondents indicating there hasn't been any impact in these areas at all. A lot is already changing, and there will be more change to come.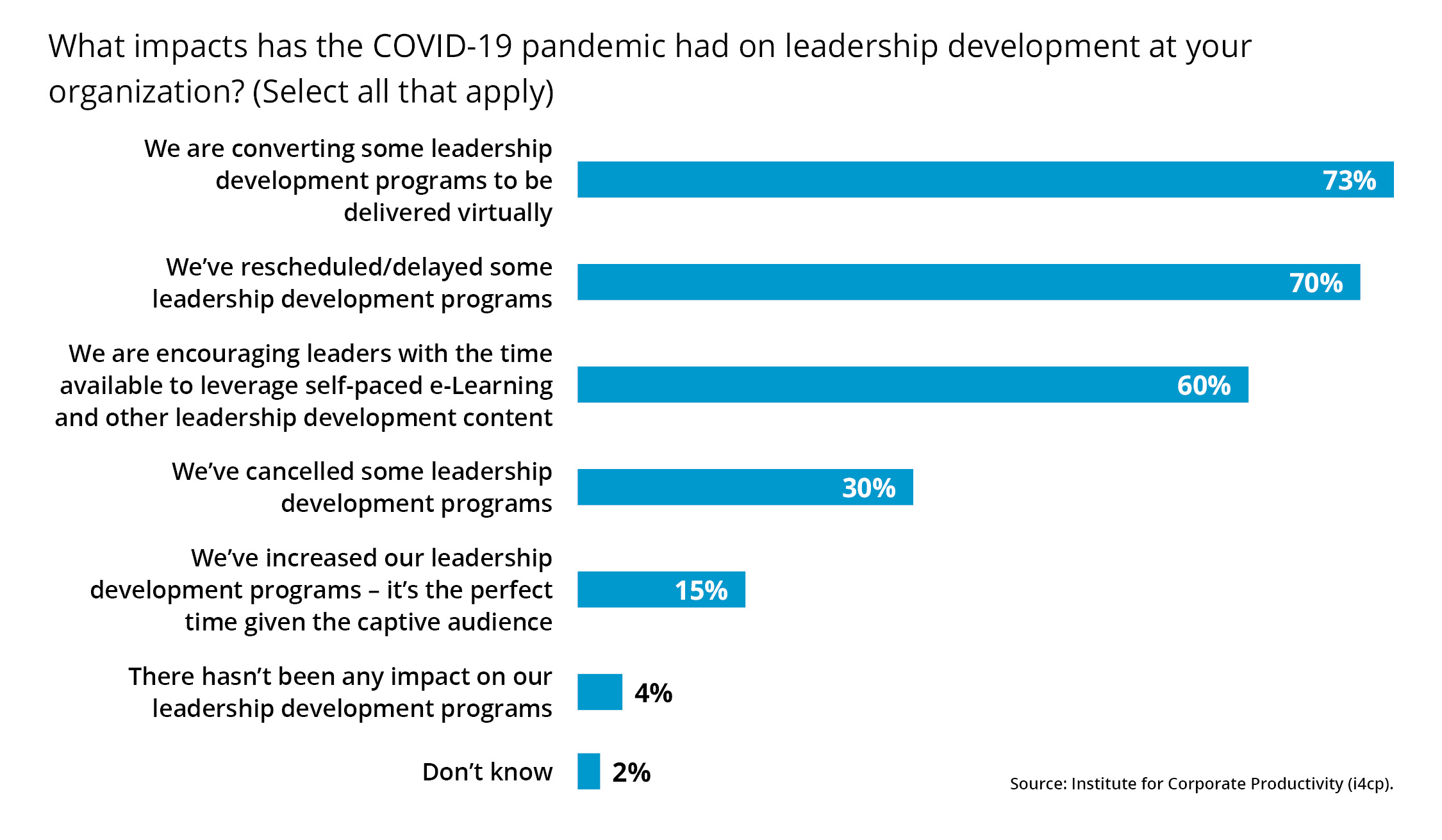 Regarding leadership development programs, almost everyone indicated there had been at least some impact, with the most common being either the rescheduling / delay of programs (70%) or the conversion of some programs to virtual delivery (73%). Only 30% of respondents indicated their organization had cancelled some leadership development programs, with 60% noting that they are encouraging leaders that have time available to leverage self-paced e-Learning and other leadership development content where applicable.
But COVID-19 is doing more than impacting the logistical side of leadership development and training. Several survey participants noted that they are changing the competencies included in their leadership models, and therefore the topics included in their development programs. One gave specifics, noting they are adding crisis management, digital adroitness, virtual leadership, and leading in difficult times to their leadership core competencies.
The design of some leadership development programs is also being adjusted. Several participants noted that the COVID-19 pandemic period has provide fresh examples of leadership agility and adaptability, and other good stories, that they can build into their formal training programs. Some are also getting creative and thinking differently about how to structure the programs, such as "having smaller cohorts that are focused on peer learning and coaching with access to executives virtually, versus traveling to an office for an action learning experience."
The succession planning / management processes at organizations have also been variously impacted by the COVID-19 pandemic, with 40% of respondents indicating that talent reviews are continuing but being conducted virtually, and 33% indicating that such meetings are being delayed or rescheduled. Some respondents indicated they are staying focused on key evolutions they had planned such as succession plan gap closure, succession plan diversity, increased transparency, increased future-focus, and building functional and individual development plans. But others indicated that any process changes have been put on hold, with only critical positions being considered during this crisis time period. One respondent said their organization is using this time to carefully consider how work should and will be redesigned, and what impact that will have on roles, org structures, and ultimately where talent gaps—including leadership gaps—might exist.
The survey concluding by asking what impact the COVID-19 pandemic will have the organization's overall talent risk for current leaders. Here the results were mixed, with 10% indicating talent risk for leaders would significantly increase versus only 6% indicating it would significantly decrease. The results for those who see less extreme changes were flipped, with 17% indicating talent risk would increase somewhat, but 26% indicating it would decrease somewhat. Another 29% indicated they don't yet see a change in talent risk for leaders arising from the COVID-19 pandemic period, and 11% weren't sure.
Key findings recap:
Only 4% of those surveyed said COVID-19 has not any impact on their organization's leadership development programs, with only 7% saying the same for their succession planning / management process.
70% said that leadership development programs have been rescheduled or delayed, 73% said that at least some programs have been delivered virtually, and 60% said they are encouraging leaders to leverage self-paced e-Learning programs where applicable.
40% indicated that talent reviews that are part of the organization's succession planning / management process are continuing but being conducted virtually, with 33% saying such meetings are being delayed or rescheduled.
While 27% said that talent risk for current leaders at their organization would increase somewhat or significantly due to the COVID-19 pandemic, even more (32%) said it would decrease somewhat or significantly.
Download the full survey results—due to the current global health and productivity crisis affecting everyone, i4cp is making all related ongoing research publicly available.
We also encourage you to visit i4cp.com/coronavirus for other employer resources including discussion forums, next practices, useful resources, and more.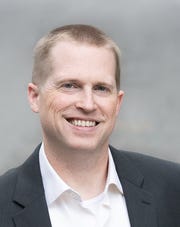 Tom is a Senior Research Analyst at i4cp, with over two decades of experience as a writer, researcher, and speaker in the learning and development and broader human capital industry. He is also author of multiple books, including co-authoring Interact and Engage! 75+ Activities for Virtual Training, Meetings, and Webinars (second edition from ATD Press, 2022).