Advanced Work Automation at Johnson & Johnson: An Interview with Piyush Mathur
Piyush Mathur is Global Head, Workforce Analytics, Data Strategy and Governance at Johnson & Johnson. As part of our ongoing research into work automation, we recently interviewed him about the use of work automation including robotic process automation, artificial intelligence, and more at Johnson & Johnson—especially within HR.

Please describe your organization's focus to date on advanced work automation (RPA, AI, robotics, etc.)
At Johnson & Johnson, our goal is to be strategic and thoughtful about how AI and other automation can impact our business and create value for the patients, doctors, and nurses we serve, and at the same time enable our employees to do more value-added work.
We enable our employees to fulfill their personal purpose and potential at Johnson & Johnson through flexible and personalized development paths and a focus on building highly capable leaders.
We realize that advanced work automation will be part of our evolution and we are committed to training our workforce to develop their skills as we go.
What are the drivers of this evolution?
The way we do business is going to change. For example, there was no such thing as digital surgery in the past. Nowadays, there are robots performing large parts of surgeries in place of humans. The art of working with these robots will require a different kind of skill set, not just from research and development [R&D] employees, but also from our sales teams because they'll need to understand the technology to sell our product to doctors.
The key driver will be the business—determining how it is evolving and making sure that we have the skills within the organization that can address those needs.
What roles/areas have been or will be the initial focus?
Across the enterprise, data science is one area we've been focusing on—it impacts every single function. We've started an overarching initiative across J&J called the Data Science Council. There are fifteen of us on the council made up of members from supply chain, R&D, finance, HR and the commercial side, all thinking about how to develop this skill within each function.
Was the approach strategic and intentional, by deconstructing jobs and identifying tasks that can be automated, or was it more tactical and driven by specific functional areas' needs?
When you think of AI and data science in a healthcare company, the first thing you think about is R&D. But data science skills are also relevant for marketing and sales teams, supply chain, finance, and HR. Data science skills are valuable across the enterprise because technology impacts every function. The objective for us has been to apply this lens strategically and holistically.

What are the main benefits you have seen so far from advanced work automation?
Since we've recognized that data science is a skill that will impact every function and have started to integrate it across our business, we're already seeing the benefits.
We've built a culture that is data driven, and it's a good start. One example within the HR function specifically is leveraging data science and analytics in hiring and job postings.
At J&J we receive an average of 1.2 million resumes annually and have a two percent acceptance rate. How do we begin to evaluate 1.2 million resumes? Our talent acquisition team is ready to look at each of those resumes, but once we started using AI to help read a resume and understand a potential candidate, we've drastically shortened our conversion rate for hiring candidates while remaining compliant with global policies and "Our Credo" values to put the needs and well-being of the people we serve first.
Do you have one or more automation / tech experts focused on advanced work automation, or do you rely on central IT or outside consultants?
The answer is both. The benefit of using internal capabilities is that we tend to be able to customize and make tools and processes more relevant and functional to our business.
Our internal team is cross-functional within J&J and we work with external consultants when we want specific expertise and an external perspective.
What sorts of ethical issues are you considering as you focus on advanced work automation, especially AI?
It's important to always be conscious about what AI brings to the table. Rather than closing our eyes and taking its recommendations, we recognize there is an art and science at play, and we must evaluate how AI is making those recommendations and understand what variables it is using and how it is using them.
We work with our privacy and legal teams to ensure our AI tools are approved and working appropriately. That involves checking that the data is captured in the right way, ensuring it's HIPAA compliant and testing it thoroughly from various perspectives to maintain high ethical standards.
Are you empowering your employees to automate their own work knowing that upskilling/reskilling opportunities and career pathways will be available?
Upskilling will be important for all organizations, regardless of industry, size or other factors.
The business model is changing, and everything is going digital.
We now require people who have both quantitative and leadership skills to have at least a general understanding of machine learning. We've also taken the initiative to build those skills within the company by helping to train employees who have the quantitative skills to be the data scientists of the future.
For example, we are developing a curriculum for top VPs in the company, so they get to learn more about data science and what it is. Then they are asked to sponsor data science projects across the company.
In HR, we are constantly evaluating how to use automation to make our employees' lives easier and their workday more efficient. By doing this, we allow our employees more time to focus on our mission to deliver better health outcomes and enable them the time to fulfill their family and other personal responsibilities.

What are you doing to apply advanced work automation to HR functions themselves?
We apply AI to those processes that are very manual. We believe many manual tasks can be automated, so we started an exercise called "intelligence automation" where we are working to automate tasks. We currently have seven ongoing cases where we are testing this.
One example where we've been leveraging AI is around the development of job descriptions and we have seen an increase in the diversity and quality of applicants since rolling it out.
In real time, AI can analyze and immediately update key words to attract our target audience. For example, when developing a job post, engineering graduates did not like the term "cross-functional," but when we said "multi-functional," they were more attracted to these roles.
Another example in the HR function is in the case of IT service delivery. We call it "no touch transaction" because you don't have to speak to a human, but instead chat with a bot in order to find the information. We've seen this improve our employee experience because some employees do prefer to do it themselves. We are also able to track and see how successfully the platform is performing and identify ways to improve it over time.
We believe automation is always about driving business outcomes, hence we often say: "Insight without outcome is overhead."

In what ways is HR leading on advanced work automation at J&J?
Our team uses metrics, analytics, and advanced automation to better understand our workforce. We have developed several advanced models which are driving better business outcomes.
One example is in the area of proactive retention, where we have built models to understand the drivers of retention and implemented actions that are leading to improved outcomes and lowering our attrition. Another use is understanding the kind of experiences that enable our employees to unlock their potential. For example, we have learned from our analytics that if you move across function, sector, or region, you will have a 40% greater chance of being promoted. It's by bringing new experiences and perspectives that our people really add value to the business.
We believe our HR Analytics function is not just keeping up with capabilities we've observed in competitive HR organizations—we are leading the way and planning to stay there.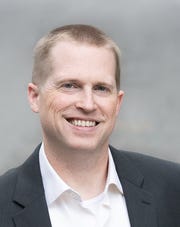 Tom is a Senior Research Analyst at i4cp, with over two decades of experience as a writer, researcher, and speaker in the learning and development and broader human capital industry. He is also author of multiple books, including co-authoring Interact and Engage! 75+ Activities for Virtual Training, Meetings, and Webinars (second edition from ATD Press, 2022).