Three Key Takeaways from the i4cp 2015 Conference
What happens when you bring together 260 HR professionals (67% of which have a job title that starts with Chief, EVP/SVP/VP, or Director) from 110 leading employers in a vendor- and consultant-free environment that's rich in industry thought leaders and leading-edge practitioners? The answer: unequaled networking, uninhibited idea sharing, and an unparalleled learning opportunity.
Takeaways from the 2015 i4cp Conference--presented over two and a half days last week at the beautiful Fairmont Princess resort in Scottsdale, Arizona--were numerous. Here's a summary of three that stood out to me:
The Demands and Needs of Your Customers Apply to Your Employees
Best-selling author of The Engaged Leader: A Strategy for Your Digital Transformation and i4cp Thought Leader Consortium member Charlene Li opened the conference with a challenge to leaders to look beyond employee engagement and toward creating better employee relationships. Much of Li's call to action is rooted in what she terms "open leadership," in which leaders use digital platforms to embrace and drive a culture of sharing. The goal is to make the organization more open to its employees, customers, and partners, which requires leaders to find the courage to open two-way channels to these key stakeholder groups.
This same sentiment was reinforced by Bill Price, Amazon.com's first head of global customer service and author of Your Customer Rules! Price related how the keys to achieving a world-class customer experience also translates into the organization's ability to hold onto the best talent, make sure they thrive, and find more folks like them--i.e. internal markets present the same challenges with the same barriers. He also challenged the audience to take a personal look at the way they engage and empower employees, with specific emphasis on making it easy for them to do their jobs.
The spirit of what Li and Price presented was again reflected in a presentation by Lincoln Financial's dynamic duo of Lisa Buckingham, chief HR officer, and Jamie DePeau, chief marketing officer. Their contention: "The brand we reflect out to the marketplace is a reflection of how we live internally"--a.k.a. inside-out branding. i4cp research on The Customer-Focused Organization revealed the need for external and internal brand integrity, with fully one-third of companies reporting that they do not keep promises to customers, and nearly six in 10 saying they do not keep promises to employees. Bridging those critical gaps begins with building trusting relationships, which require purposeful, consistent listening and interaction with employees and customers, fueled by a willingness to take action based on their input.
Diverse Experiences are Key to Development
Dr. Morgan McCall, author of Using Experience to Develop Leadership Talent, emphasized an intuitive yet often overlooked reality--that the boss can be an experience, and exceptional bosses are constantly teaching (e.g., allowing mentees to shadow them or helping them to develop important networking connections). A slew of heavy-hitter HR executives built on McCall's insights in different ways.
David Clark, chief learning officer for American Express, shared his thoughts on the importance of rewarding those who teach others and who demonstrate their knowledge on the job. To encourage this at American Express, they developed iLearn,a multi-sourced feedback tool that, for example, employees leverage after they complete a learning program to gain insight on their performance/behaviors from others.
Kevin Wilde, chief learning officer for General Mills, shared how his organization creates experiences for high-potential employees via specific assignments (i.e., experiential learning) that includes exposure assignments, competency assignments, and wisdom assignments.
Kelly Gray, chief HR officer for FedEx, presented how development at FedEx is viewed as a lattice. According to Gray, FedEx strives for an ideal state where cross-functional development and lateral (even downward) movement is viewed as the ultimate in personal and career advancement. This approach is working at FedEx. Last year, the company filled 93% of its manager openings internally.
In this volatile, complex, uncertain and ambiguous world, diverse experiences are increasingly essential. To bolster this contention, recent i4cp research revealed that demonstrating awareness of cross-cultural differences is one of two leadership behaviors that drive an inclusive work environment. Developmental experiences that enable this awareness include stretch assignments, participation on key customer projects, and active participation in employee affinity or resource groups.
Datafication and Democratization of Data = Opportunity
What do three very different companies (a global leader in the manufacture and sale of aluminum-rolled products, an iconic yet struggling 130-year-old American retailer, and one of the world's leading information technology firms) all have in common? The ability to turn data into usable information that is making measurable impact on their businesses.
It's difficult to find an HR executive more data-driven and versed in the application of analytics than the VP of talent management and organizational effectiveness for Aleris, Dr. Akil Walton. Dr. Walton shared how his team can predict a percentage of the company's operating profit (in the coming year) based on the firm's employee engagement scores. He discussed and showed how, via the use of regression analysis and t-tests, they've been able to determine the four strongest drivers of engagement at their firm.
A presentation that caught me off-guard was delivered by two executives at Sears Holdings. Dr. Chris Mason, head of strategic talent solutions, and Phil Menzel, vice president of HR, shared how their company is leveraging social technology and crowd-sourcing techniques to enable what they term "performance enablement"--i.e., using multifaceted and real-time feedback to shape and align quarterly employee objectives and individual performance. Only 214 days into this initiative, the company reports 10,000 active users on the platform who are generating 40,000 pieces of feedback, and--most importantly--75% indicate they've changed behavior based on feedback they've received.
Not to be outdone, Chris Broderick, head of workforce analytics for IBM, discussed the role and impact of "social analytics" at IBM, and how the company uses social media monitoring to predict key business drivers such as employee performance. For example, in addition to analyzing customer activity, the company analyzes the social media activity (via internal and external networks) of its employees to see what they are talking about. Broderick presents the results to IBM's CEO in a monthly report on the aggregated social sentiment. Through this analysis, IBM has found strong correlations between the words employees use to describe IBM and their engagement scores. Because of this, IBMers are encouraged to respond to #myweekin3words to help build a word cloud that illustrates the collective company sentiment. As a result of this work, and for the first time at IBM, executives have a portion of their pay tied to engagement scores. Broderick also shared how the company is now extending the use of social data analysis to IBM alumni groups, and how all analysis and activity monitoring is filtered to maintain privacy standards.
If you missed the 2015 i4cp Conference, are seeking a recap, or if you'd like your colleagues who couldn't attend to gain similar insights, please join me tomorrow (March 26th at 1pm ET / 10am PT) for a 60-minute recap of the key takeaways from this industry leading event.
And don't miss out on the i4cp 2016 Conference!
Join us next year for the most important human capital event of the year--i4cp's 2016 Member Conference. We will return to the Fairmont Princess in Scottsdale, Arizona on March 29 – April 1. Secure your seat today.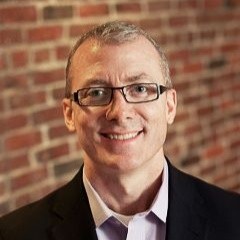 Kevin Martin is the chief research officer at i4cp. A highly sought-after international keynote speaker on all aspects of human resources and talent management, Kevin has been recognized as a "Top 100 HR Influencer" by HR Examiner, is a renowned keynote speaker, and has been published in Forbes, Wall Street Journal, and HBR.